John Thomas RONE was the 13th child of Loyd and Ibbie Ann Rone. He was born in the Turkey Creek community near Ethel in Attala Co., Mississippi. When he was just 1 year old, in 1895, his mother left the family for 2 years to spend time in the Mississippi State Insane Asylum. No record currently exists about the reason she went there, but she returned to the family in 1897. Ibbie Ann died in 1927. To us grandchildren John Thomas- Tom Rone- was simply "Daddy Tom". He grew up and lived his entire life in the Turkey Creek-Tabernacle communities of Attala County. He farmed cotton, other crops, and raised livestock. He and Grandmama Mary exemplified the rural southern farmer and family. He was a proud, outspoken man who always had an opinion on any subject. Daddy Tom passed on his trait for stubbornness to his children and some of us grandchildren. Daddy Tom registered for the draft during WWI on June 5, 1917. At that time he was still single and worked on the farm for his father, Loyd.
On October 13, 1918 Tom Rone married Mary Theora OLIVER from the Carson Ridge community down the road. Mary was the daughter of Francis Marion Oliver and Eleanor (Lanie) LONG Oliver. She was born on August 10, 1899.
Tom and Mary built their home on land which is still in the family today. Their first child, Thomas Edward, was born in 1919. The last of their nine children, Frances Marion, was born in 1941. My father, Loyd George, was the fifth child. Today, in 2009, eight of the nine children are still living. There is something unique about the longevity of my paternal family. Daddy Tom was 93 when he died in 1987 and Grandmama was 96 at her death in 1996.
JOHN THOMAS RONE AND MARY OLIVER RONE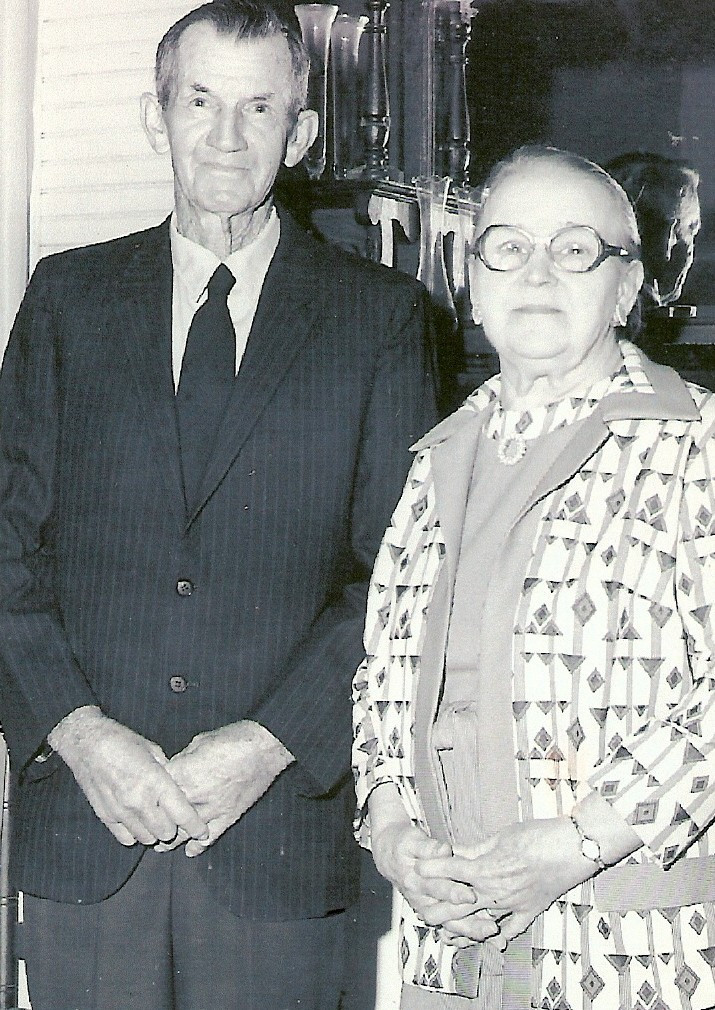 Oh, the stories I could tell. As children it was always the best of times. Playing in the barn, checking out the smokehouse and corn crib, gathering eggs, milking cows, wandering in the thicket, fishing in the pond, catching tadpoles in the creek- you name it- we did it.

Food memories stay with us. No one in my family can forget the tea cakes Grandmama made. To this day, only one person comes close- my cousin Sylvia, who spent a great deal of time in the kitchen with her. Sylvia convinced Grandmama to write down the recipe for which there was none. She did it all by memory and "feel". But Grandmama decided to try and spent countless hours making batches of cookies and measuring out ingredients until she got a recipe. It is featured in the Rone Family Cookbook that Sylvia and the aunts put together. My aunts, daddy's sisters, are all great cooks. They undoubtedly learned from Grandmama. Now if I could only make those chicken and dumplings! (My own mother comes as close as I can recall). I remember how the tables were full of fresh vegetables from the garden....FRESH...corn, peas, beans, tomatoes, and okra. And hams and chickens from the smoke house. AND fresh homemade pies and cakes.

There are other vivid memories. Sitting in the apple trees and eating green apples. Getting sick from it. Soaking in one of Grandmama's concoctions to get rid of chiggers (red bugs). Watching Daddy Tom plow the fields and calling to the mules, Maggie and Dixie, to "Gee" and "Haw". The road from Uncle Thomas's house was made of loads of sand. We built many a sand castle. That road has now been upgraded- to gravel.
Daddy Tom and Grandmama split their Sundays between Tabernacle Methodist Church and Carson Ridge Baptist Church where Grandmama remained a member all her life. They were small country churches that are still active today. There's still a "Homecoming" each year at Tabernacle and the picnic on the grounds after services has changed little. The food is still homemade, there's plenty of it, and the fellowship with kinfolk never ends.

Our families still gather at the homeplace for reunions, birthdays and holidays. The second Saturday of June each year is reserved for the famous- or infamous- RONE Family Reunion in Ethel. We share stories and memories and search for answers to our family history.